About Us
Gelato Passion (Leeds Road) is a Desserts takeaway in Bradford. Why don't you try our Gelato Milkshake Flavour: or Oreo Stack?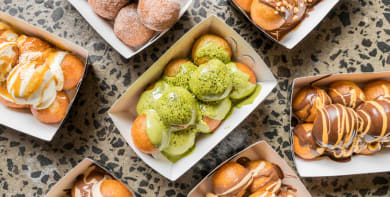 Reviews
255 reviews
Neesa
"Lovely deserts"
13/01/2021
Danielle
"Always order from here when we fancy a sweet treat. Well worth the money and always tasty. Hands down best place for waffles"
05/01/2021
Terina
"Love this place"
31/12/2020
Shuayb
"Fantastic as always, ferror rocher sundae 10/10"
30/12/2020
Menu
Fruit Milkshake Large
Fruit Milkshakes
A blend of fruit & fresh gelato to create a delicious milkshake
Flavours to choose from:
• Strawberry surprise milkshake
• Banana republic milkshake
• Mango mania milkshake
• Pineapple hut milkshake
£4.50
Fruit Milkshake Regular
Fruit Milkshakes
A blend of fruit & fresh gelato to create a delicious milkshake
Flavours to choose from:
• Strawberry surprise milkshake
• Banana republic milkshake
• Mango mania milkshake
• Pineapple hut milkshake
£3.75
Gelato Milkshake Large
Flavours to choose from:
Vanilla, strawberry, mango, raspberry ripple, salted caramel, chocolate, marshmallow, strawberry cheesecake, mint choco chip, oreo cookies, cookies & cream, bubblegum, creamy hazelnut, Ferrero rocher, bountie, pistachio, Nutella or snickers
£4.50
Gelato Milkshake Regular
Flavours to choose from:
Vanilla, strawberry, mango, raspberry ripple, salted caramel, chocolate, marshmallow, strawberry cheesecake, mint choco chip, oreo cookies, cookies & cream, bubblegum, creamy hazelnut, Ferrero rocher, bountie, pistachio, Nutella or snickers
£3.75
Gelato Milkshake Flavour: Bounty
Gelato Milkshake Flavour: Bubblegum
Gelato Milkshake Flavour: Caramel
Gelato Milkshake Flavour: Chocolate
Gelato Milkshake Flavour: Cookies & Cream
Gelato Milkshake Flavour: Creamy Hazelnut
Gelato Milkshake Flavour: Ferrero Rocher
Gelato Milkshake Flavour: Mango
Gelato Milkshake Flavour: Mint Choco Chip
Gelato Milkshake Flavour: Nutella
Gelato Milkshake Flavour: Oreo Cookies
Gelato Milkshake Flavour: Raspberry Ripple
Gelato Milkshake Flavour: Snickers
Gelato Milkshake Flavour: Strawberry
Gelato Milkshake Flavour: Strawberry Cheesecake
Gelato Milkshake Flavour: Vanilla
Fruit Milkshake Flavour: Banana Republic
Fruit Milkshake Flavour: Mango Mania
Fruit Milkshake Flavour: Pineapple Hut
Fruit Milkshake Flavour: Strawberry Surprise
Gelato Flavour: Marshmallow
Gelato Flavour: Bubblegum
Gelato Flavour: Salted Caramel
Gelato Flavour: Chocolate
Gelato Flavour: Cookies & Cream
Gelato Flavour: Creamy Hazelnut
Gelato Flavour: Ferrero Rocher
Gelato Flavour: Mint Choc Chip
Gelato Flavour: Oreo Cookies
Gelato Flavour: Pistachio
Gelato Flavour: Raspberry Ripple
Gelato Flavour: Strawberry
Gelato Flavour: Strawberry Cheesecake
Chocolate Bar Milkshake Flavour: Aero Mint
Chocolate Bar Milkshake Flavour: Bounty
Chocolate Bar Milkshake Flavour: Cadbury's Flake
Chocolate Bar Milkshake Flavour: Crunchie
Chocolate Bar Milkshake Flavour: Ferrero Rocher
Chocolate Bar Milkshake Flavour: Galaxy
Chocolate Bar Milkshake Flavour: Lindor
Chocolate Bar Milkshake Flavour: M&M's
Chocolate Bar Milkshake Flavour: Maltesers
Chocolate Bar Milkshake Flavour: Mars Bar
Chocolate Bar Milkshake Flavour: Milky Bar
Chocolate Bar Milkshake Flavour: Oreo Cookie
Chocolate Bar Milkshake Flavour: Rolo
Chocolate Bar Milkshake Flavour: Smarties
Chocolate Bar Milkshake Flavour: Snickers
Chocolate Bar Milkshake Flavour: Twix
Topping: Butterscotch Syrup
Topping: Canadian Maple Tree Syrup
Topping: Strawberry Slices
Topping: Strawberry Syrup
Topping: White Chocolate Flakes
Popular Milkshake Flavour: Aero Mint
Popular Milkshake Flavour: Banana
Popular Milkshake Flavour: Cookie Dough
Popular Milkshake Flavour: Ferrero Rocher
Popular Milkshake Flavour: Nutella
Popular Milkshake Flavour: Oreo
Popular Milkshake Flavour: Pineapple
Popular Milkshake Flavour: Snickers Bar
Popular Milkshake Flavour: Strawberry
Gelato Flavour Creamy Hazelnut
Gelato Flavour Ferrero Rocher
Milkshake Flavour: Skittles
Milkshake Flavour: Terry's Chocolate Orange
Chocolate Bar Milkshake Flavour: Terry's Chocolate Orange
Chocolate Bar Milkshake Flavour: Skittles
Chocolate Bar Milkshake Flavour: M&M's
Jam Roly Poly
Classic English dessert, strawberry jam & sponge
£4.00
Cornflake Tart
Crunchy, delicious & very popular
£4.00
Strawberry Special
Chopped fresh strawberries in a cup filled with warm Nutella sauce
£5.00
Brownie Special
Chopped brownies in a cup filled with warm Nutella sauce & white chocolate flakes
£5.00
Mango Mania Sundae
Mango gelato, vanilla gelato, fruit pieces & mango syrup with whipped cream
£7.00
Mr. Nutty Sundae
Pistachio, Nutella & hazelnut gelato, chopped nuts & chocolate sauce with whipped cream
£7.00
Strawberry Sundae
Strawberry gelato, vanilla gelato, strawberry syrup & strawberry slices with whipped cream
£6.00
Tropical Paradise Sundae
Banana, coconut & mango gelato, kiwi, strawberry & banana slices, kiwi & peach syrup with whipped cream
£7.00
The Oreo Sundae
Oreo cookies, vanilla gelato, cookies & cream gelato, chocolate sauce & Belgian chocolate bits with whipped cream
£6.00
Coconut Island Sundae
Coconut, vanilla & raspberry ripple gelato, raspberry & coconut syrup & grated coconut with whipped cream
£7.00
Chocoholic Sundae
Chocolate, toffee & vanilla gelato, chocolate shavings & chocolate sauce with whipped cream
£6.00
Bubblelicious Sundae
Bubblegum & strawberry gelato, vanilla gelato, strawberry & bubblegum syrup, 100's & 1000's with whipped cream
£6.00
Banana Split Sundae
Whole banana, strawberry slices, vanilla gelato, strawberry syrup & Belgian white chocolate flakes with whipped cream
£6.00
After Eight Mint Chocolate Sundae
Mint choc chip & chocolate gelato, mint syrup, chocolate sauce & after eight chocolates with whipped cream
£6.00
Ferrero Rocher Sundae
Ferrero Rocher gelato, vanilla gelato, milk chocolate flakes, Ferrero Rocher's, Belgian chocolate sauce & nuts with whipped cream
£6.00
M&M's Waffle Large(Full)
Peanut OR chocolate M&M's & chocolate sauce
£6.50
M&M's Waffle Regular(Half)
Peanut OR chocolate M&M's & chocolate sauce
£5.00
Gelato Passion Special Waffle Large(Full)
Waffle made with melted Ferrero Rocher chocolate, topped with Nutella & whole Ferrero Rocher's
£7.00
Gelato Passion Special Waffle Regular(Half)
Waffle made with melted Ferrero Rocher chocolate, topped with Nutella & whole Ferrero Rocher's
£5.00
Banoffee & Nutella Waffle Large(Full)
Nutella, sliced banana & toffee syrup
£6.50
Banoffee & Nutella Waffle Regular(Half)
Nutella, sliced banana & toffee syrup
£5.00
Banoffee Waffle Large(Full)
Banana slices & toffee sauce
£6.50
Banoffee Waffle Regular
Banana slices & toffee sauce
£5.00
Canadian Winter Waffle Large(Full)
Canadian maple tree syrup & cinnamon
£6.50
Canadian Winter Waffle Regular(Half)
Canadian maple tree syrup & cinnamon
£5.00
Chocoholic Waffle Large(Full)
Belgian milk & white chocolate flakes & chocolate sauce
£6.50
Chocoholic Waffle Regular(Half)
Belgian milk & white chocolate flakes & chocolate sauce
£5.00
Strawberry Delight Waffle Large(Full)
Strawberry slices & strawberry syrup
£6.50
Strawberry Delight Waffle Regular(Half)
Strawberry slices & strawberry syrup
£5.00
Strawberry & Banana Waffle Large(Full)
Banana & strawberry slices, white chocolate sauce & white chocolate flakes
£6.50
Strawberry & Banana Waffle Regular(Half)
Banana & strawberry slices, white chocolate sauce & white chocolate flakes
£5.00
Strawberry & Butterscotch Waffle Large(Full)
Strawberry slices, butterscotch syrup & white chocolate flakes
£6.50
Strawberry & Butterscotch Waffle Regular(Half)
Strawberry slices, butterscotch syrup & white chocolate flakes
£5.00
Strawberry & Chocolate Indulgence Waffle Large(Full)
Strawberry slices, chocolate sauce & milk chocolate flakes
£6.50
Strawberry & Chocolate Indulgence Waffle Regular(Half)
Strawberry slices, chocolate sauce & milk chocolate flakes
£5.00
Nutella Spread Waffle Large(Full)
Nutella spread & a topping of your choice
£6.50
Nutella Spread Waffle Regular(Half)
Nutella spread & a topping of your choice
£5.00
Make Your Own Waffle Large(Full)
Choose any four of our toppings & sauces to create your own waffle
£7.00
Make Your Own Waffle Regular(Half)
Choose any four of our toppings & sauces to create your own waffle
£5.00
Coconut Island Waffle Large(Full)
Belgium chocolate flakes with coconut bits & white chocolate sauce
£7.00
Coconut Island Waffle Regular(Half)
Belgium chocolate flakes with coconut bits & white chocolate sauce
£5.00
Lotus Special Waffle Large(Full)
Waffle topped with Lotus crumbled biscuit, Lotus special sauce & white chocolate flakes
£7.00
Lotus Special Waffle Regular(Half)
Waffle topped with Lotus crumbled biscuit, Lotus special sauce & white chocolate flakes
£5.00
House Special Waffle Large(Full)
Waffle topped with nutella, fresh strawberries, white chocolate flakes, chocolate & toffee syrup
£7.00
House Special Waffle Regular(Half)
Waffle topped with nutella, fresh strawberries, white chocolate flakes, chocolate & toffee syrup
£5.00
Gelato 01 Scoop
Flavours to choose from:
Vanilla, strawberry, mango, raspberry ripple, salted caramel, chocolate, strawberry cheesecake, mint choc chip, oreo cookies, cookies & cream, bubblegum, creamy hazelnut, ferrero rocher, marshmallow, bountie, pistachio, nutella, snickers, lotus
£2.00
Gelato 02 Scoops
Flavours to choose from:
Vanilla, strawberry, mango, raspberry ripple, salted caramel, chocolate, strawberry cheesecake, mint choc chip, oreo cookies, cookies & cream, bubblegum, creamy hazelnut, ferrero rocher, marshmallow, bountie, pistachio, nutella, snickers, lotus
£3.00
Gelato 03 Scoops
Flavours to choose from:
Vanilla, strawberry, mango, raspberry ripple, salted caramel, chocolate, strawberry cheesecake, mint choc chip, oreo cookies, cookies & cream, bubblegum, creamy hazelnut, ferrero rocher, marshmallow, bountie, pistachio, nutella, snickers, lotus
£4.00
Gelato 04 Scoops
Flavours to choose from:
Vanilla, strawberry, mango, raspberry ripple, salted caramel, chocolate, strawberry cheesecake, mint choc chip, oreo cookies, cookies & cream, bubblegum, creamy hazelnut, ferrero rocher, marshmallow, bountie, pistachio, nutella, snickers, lotus
£5.00
Chocolate Bar Milkshake Large
Flavours to choose from:
• Ferrero Rocher           • Crunchie
• Kinder Bueno             • Reeses         
• Lindor                         • Cadbury's Flake                           
• Oreo Cookie               • Lotus Biscoff                   
• Mars Bar                     • Snickers                                         
• Skittles                        • Rolo                     
• Maltesers                    • Bounty  
• Milky bar                     • M&M's
• Aero Mint                    • Galaxy
£4.50
Chocolate Bar Milkshake Regular
Flavours to choose from:
• Ferrero Rocher           • Crunchie
• Kinder Bueno             • Reeses         
• Lindor                         • Cadbury's Flake                           
• Oreo Cookie               • Lotus Biscoff                   
• Mars Bar                     • Snickers                                         
• Skittles                        • Rolo                     
• Maltesers                    • Bounty  
• Milky bar                     • M&M's
• Aero Mint                    • Galaxy
£3.75
Caribbean Ice
Mango & pineapple
£4.00
Banana Berry
Banana & strawberries
£4.00
Mango Crush
Mango & strawberry
£4.00
Tropical Ice
Mango, kiwi & pineapple
£4.00
Mango & Lime
Mango, lemon & lime
£4.00
White Chocolate Chip & Strawberry Cookie Dough Large
Warm & gooey white chocolate chip cookie dough, strawberries, vanilla gelato & strawberry sauce
£6.00
White Chocolate Chip & Strawberry Cookie Dough Regular
Warm & gooey white chocolate chip cookie dough, strawberries, vanilla gelato & strawberry sauce
£4.75
Banoffee Cookie Dough Large
Warm & gooey chocolate chip cookie dough, sliced banana, vanilla gelato, toffee & caramel sauce
£6.00
Banoffee Cookie Dough Regular
Warm & gooey chocolate chip cookie dough, sliced banana, vanilla gelato, toffee & caramel sauce
£4.75
Bubble Dough Large
Hot & chewy chocolate chip cookie dough, bubblegum gelato, 100's & 1000's & bubblegum sauce
£6.00
Bubble Dough Regular
Hot & chewy chocolate chip cookie dough, bubblegum gelato, 100's & 1000's & bubblegum sauce
£4.75
Chocolate Chip & Strawberry Cookie Dough Large
Warm & gooey chocolate chip cookie dough, strawberries, vanilla gelato & strawberry sauce
£6.00
Chocolate Chip & Strawberry Cookie Dough Regular
Warm & gooey chocolate chip cookie dough, strawberries, vanilla gelato & strawberry sauce
£4.75
Chocolate Chip Cookie Dough Large
Hot & chewy chocolate chip cookie dough, vanilla gelato & chocolate sauce
£6.00
Chocolate Chip Cookie Dough Regular
Hot & chewy chocolate chip cookie dough, vanilla gelato & chocolate sauce
£4.75
White Choc Chip Cookie Dough Regular
Warm & gooey white chocolate chip cookie dough, vanilla gelato & strawberry sauce
£4.75
White Choc Chip Cookie Dough Large
Warm & gooey white chocolate chip cookie dough, vanilla gelato & strawberry sauce
£6.00
Oreo Cookie Dough Regular
£4.75
Nutella Cookie Dough Large
£6.00
Nutella Cookie Dough Regular
£4.75
Ferrero Rocher Cookie Dough Large
£6.00
Ferrero Rocher Cookie Dough Regular
£4.75
Lotus Cookie Dough Large
Hot & chewy chocolate chip cookie dough, vanilla gelato, Lotus biscuits & syrup
£6.00
Lotus Cookie Dough Regular
Hot & chewy chocolate chip cookie dough, vanilla gelato, Lotus biscuits & syrup
£4.75
Nutella & Strawberry Cookie Dough Large
Hot & chewy chocolate chip cookie dough, vanilla gelato, Nutella sauce & fresh strawberries
£6.00
Nutella & Strawberry Cookie Dough Regular
Hot & chewy chocolate chip cookie dough, vanilla gelato, Nutella sauce & fresh strawberries
£4.75
Ferrero Rocher Chocolate Cheesecake - Per Slice
£3.50
Strawberry Cheesecake - Per Slice
£3.50
Oreo Cheesecake - Per Slice
£3.50
Lotus Cheesecake - Per Slice
£3.50
Sorbet 01 Scoop
Choice of Sorbet: Lemon or strawberry
£2.00
Sorbet 02 Scoops
Choice of Sorbet: Lemon or strawberry
£3.00
Sorbet 03 Scoops
Choice of Sorbet: Lemon or strawberry
£4.00
The Great Knickerbocker Glory Sundae
Sliced fruit, strawberry & chocolate gelato, vanilla gelato, whipped cream & strawberry syrup
£7.00
Chocolate & Strawberry Sensation
Strawberry & vanilla gelato, strawberries, strawberry syrup, chocolate sauce & whipped cream
£7.00
Lotus Gelato Sundae
Vanilla & cookies n cream gelato, crumbled Lotus biscuits whipped cream & Lotus syrup
£7.00
Tutti Frutti Sundae
Mixed fruit, vanilla gelato, chocolate sauce, whipped cream & fruit syrup
£7.00
Falooda Kulfi
A popular beverage in the Indian subcontinent, a cold & sweet beverage containing rose syrup, vermicelli & tapioca seeds
£4.00
Falooda Mango
A popular beverage in the Indian subcontinent, a cold & sweet beverage containing rose syrup, vermicelli & tapioca seeds
£4.00
Healthy Frozen Yoghurt 01 Scoop
Choice of: Mango or raspberry
£2.00
Healthy Frozen Yoghurt 02 Scoops
Choice of: Mango or raspberry
£3.00
Healthy Frozen Yoghurt 03 Scoops
Choice of: Mango or raspberry
£4.00
Diet Coca-Cola - Glass Bottle
£2.00
Bubblelicious Sundae
Bubblegum gelato, whipped cream, bubblegum sauce, marshmallows, 100's & 1000's, Cadbury's flake & bubblegums
£5.00
Chocolicious Sundae
Chocolate gelato, whipped cream, chocolate sauce, chocolate buttons, chocolate strands & a Cadbury's flake
£5.00
Mr. Whippy Sundae
Raspberry ripple gelato, whipped cream, raspberry sauce, marshmallows, 100's & 1000's & a Cadbury's flake
£5.00
Smartie Pants Sundae
Strawberry gelato, whipped cream, strawberry & chocolate sauce, M&M's, 100's & 1000's & a Cadbury's flake
£5.00
Chocolate Fudge Cake - Per Slice
£3.50
Peanut Butter Stack - Per Slice
£3.50
Ferrero Rocher Choc Gateau - Per Slice
£3.50
Banana Twist Milkshake Large
Nutella, bananas, chocolate sauce, whipped cream & Cadbury's crumbled flake
£5.00
Banana Twist Milkshake Regular
Nutella, bananas, chocolate sauce, whipped cream & Cadbury's crumbled flake
£4.00
American Dream Milkshake Large
Bananas, strawberries, chocolate sauce, whipped cream & Cadbury's crumbled flake
£5.00
American Dream Milkshake Regular
Bananas, strawberries, chocolate sauce, whipped cream & Cadbury's crumbled flake
£4.00
Caribbean Milkshake Large
Mangos, pineapple, chocolate sauce, whipped cream & Cadbury's crumbled flake
£5.00
Caribbean Milkshake Regular
Mangos, pineapple, chocolate sauce, whipped cream & Cadbury's crumbled flake
£4.00
The Million Dollar Milkshake Large
Ferrero Rocher, strawberries, chocolate sauce, whipped cream & Cadbury's crumbled flake
£5.00
The Million Dollar Milkshake Regular
Ferrero Rocher, strawberries, chocolate sauce, whipped cream & Cadbury's crumbled flake
£4.00
The Obama Milkshake Large
Cookie dough, strawberries, chocolate sauce, whipped cream & Cadbury's crumbled flake
£5.00
The Obama Milkshake Regular
Cookie dough, strawberries, chocolate sauce, whipped cream & Cadbury's crumbled flake
£4.00
The Billion Dollar Milkshake Large
Ferrero Rocher, bananas, chocolate sauce, whipped cream & Cadbury's crumbled flake
£5.00
The Billion Dollar Milkshake Regular
Ferrero Rocher, bananas, chocolate sauce, whipped cream & Cadbury's crumbled flake
£4.00
Pina-Colada Milkshake Large
Pineapple, Bounty bar, chocolate sauce, whipped cream & Cadbury's crumbled flake
£5.00
Pina-Colada Milkshake Regular
Pineapple, Bounty bar, chocolate sauce, whipped cream & Cadbury's crumbled flake
£4.00
Mint Mania Milkshake Large
Aero mint, chocolate sauce, whipped cream & Cadbury's crumbled flake
£5.00
Mint Mania Milkshake Regular
Aero mint, chocolate sauce, whipped cream & Cadbury's crumbled flake
£4.00
Oreo-Licious Milkshake Large
Oreos, Snickers bar chocolate sauce, whipped cream & Cadbury's crumbled flake
£5.00
Oreo-Licious Milkshake Regular
Oreos, Snickers bar chocolate sauce, whipped cream & Cadbury's crumbled flake
£4.00
Mango Twist Milkshake Large
Vanilla ice cream, Oreo's, mangos, chocolate sauce, whipped cream & Cadbury's crumbled flake
£5.00
Mango Twist Milkshake Regular
Vanilla ice cream, Oreo's, mangos, chocolate sauce, whipped cream & Cadbury's crumbled flake
£4.00
Frappe
Made with irresistibly rich chocolate flavour & a hint of coffee blended with ice, topped with whipped cream & a chocolate drizzle
£4.50
Contact Us
Find Us
1246 Leeds Road, Bradford, BD38LG
We deliver to
BD1, BD10, BD11, BD2, BD3, BD4, BD5, LS13, LS28